Cabin in Inkoo
Architect Mikko Heikkinen
Location Inkoo
Gross Area 40 m2 (vierasmaja) + 27 m2 (pesutilat)
Completion 2021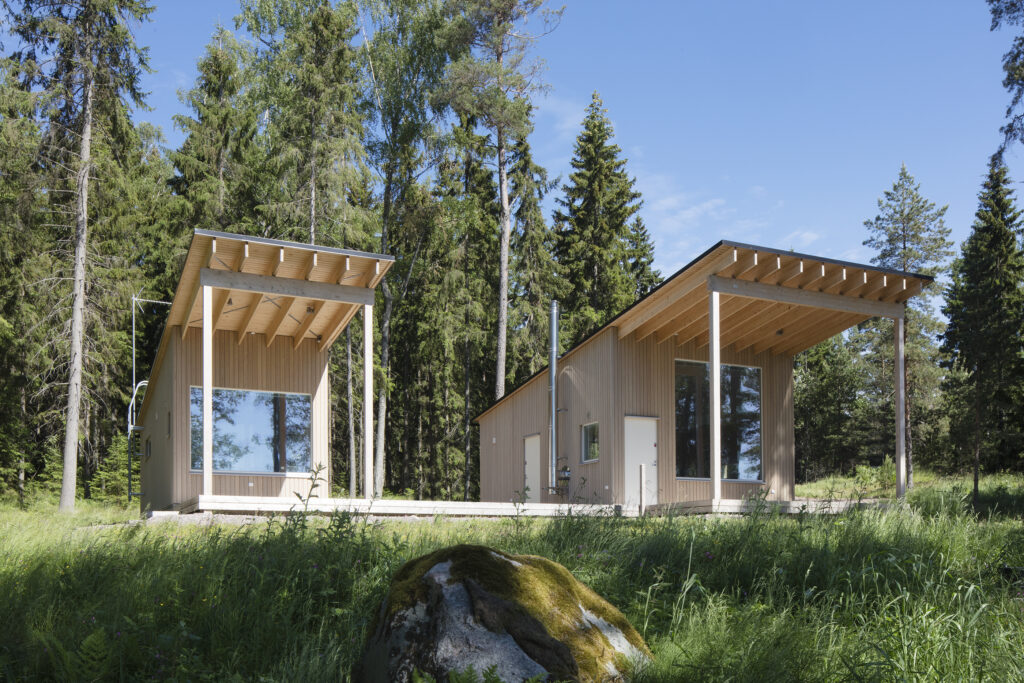 In the early 1970s, Aarno Ruusuvuori designed a villa and sauna for a beautiful seafront plot in Inkoo. The villa is not suitable, however, for wintertime habitation, and so the client wanted a new holiday home on the plot for year-round use.
The masterplan for the Inkoo inner archipelago allowed for the construction of a guest cabin that does not exceed 40 m2. Consequently, the washroom and a small dressing-cum-guest room were placed in a separate maintenance building, which was connected to the guest cabin with a partially covered terrace. The original villa was to remain in use as the main building, and so the new yard area was placed as far away from it as possible on the other side of the plot.
The guest cabin and the service building are like narrow rods oriented towards the sea, and they overlook it via large windows – as is also the case with old sauna building as well as the Marisauna building designed by Ruusuvuori together with Armi Ratia in 1968.
In the guest cabin, the height of the space increases towards the sea. At the lower end of the space is a sleeping space and a room with a toilet and shower that can be divided off from the rest by a sliding door. The exterior cladding and the interior panelling are made of knot-free spruce boarding.
Other villas dating from the same period have often either been demolished or repaired in such a way that their original architecture has been lost. Here, however, the owners have wanted to preserve the spirit of the building, albeit they have had to make compromises in the details.
The rooms of the villa are grouped around an atrium. The floorplan arrangement may have been influenced by Ruusuvuori's work trips to Ethiopia. The terrace connecting the new guest cabin and the maintenance building also carry references to the atrium courtyard. ↙
Photos Heikkinen-Komonen Architects